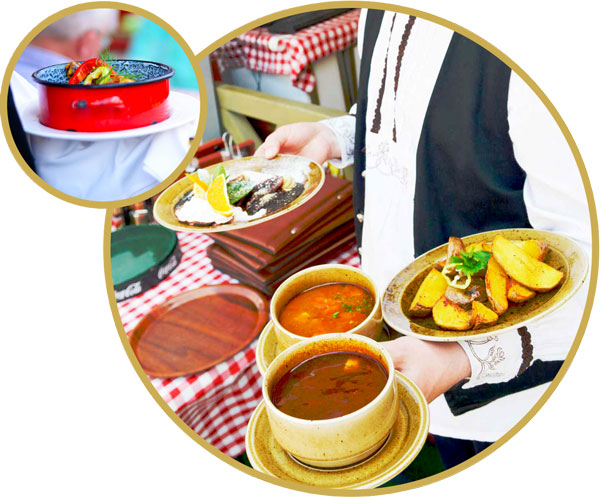 The Arany Hordó Restaurant can be found in the heart of the Buda Castle, which used to be the residence of the King's main cup-bearer.
The already 500 years old wine cellar was part of the Buda Labyrinth, in which we can offer our guests dinners and wine tasting events. The candlelight wine bar flies us to the time dating back To King's Court.
Our restaurant enchants you with the flavors of the traditional Hungarian cuisine and with the charming music.
Upstairs our "Knight room" is decorated with frescoes on the walls and medieval weapons, where you are able to spend a fantastic medieval feast.
Some courses, as in the past, are served in woodplates and on spit. This room can accommodate private events and it is a popular scene for corporate events as well.
In our covered terrace beside the culinary delights, while watching the imposing towers of Matthias Church, you can participate in the Buda Castle's bustle.
Arany Hordó: Rustic walls, candlelight dinners spiced with 500 years.
The air conditioned Knight banquett-hall on the first floor can be a perfect location for events, up to 60 person.
Our 40 person wine cellar is appropriate for arranging wine dinners and wine tastings as well.
1. Hungarian foretaste ( liver pate, smoked sausage, farm ham, vegetables)
2 990,-
Ungarische gemischte Platte ( Leberpastete, geräucherte Wurst, Bauerschinken, Gemüsen)
Degustazione freddo ungherese dell'azienda. (salsiccia , crema fegato d'oca , prosciutto casalinga, verdura)
Plato entremese variado (paté de higado salchicha ahumada, jámon, verduras )
Przysmaki węgierskie /pasztet z wątróbki,kielbasa wędzona,szynka wiejska, nowalijki/
Холодное ассорти с фермы по- венгерски (колбаса, гусиным паштетом печени , мясной паштет, крестьянская ветчина)
2. Grilled goat cheese with green salad and pear vinaigrette (V)
4 490,-
Formaggio fresco alla griglia con insalata verde fresca e vinaigrette al pomodoro verde (V)
Queso de cabra a la plancha con lechuga,vinegreta de pera (V)
Grilowany ser kozi z zieloną salatą z gruszką vinegrata (V)
Козий сыр зажареный на гриле со свежим салатом и винигретт соусом из зеленых помидоров(вегетарианское блюдо) (V)
3. Pancake Hortobágy style
2 790,-
Hortobagyer Palatschinken
Crepe all'Hortobágy (ripieni di pollo, con salsa alla paprika)
Crepe Hortobágy relleno con carne picada
Nalesniki nadziwane miesem ala "Hortobágy"
Блины по-хортобадьски (с начинкой из куриного мяса с соусом из паприки)
4. Caesar salad (V)
2 990,-
Cesar Salat (V)
Insalata Cesare (V)
Cesar Salat (V)
Salata Cezara (V)
Cалат Цезарь (V)
5. Goulash soup in cup
2 490,-
Gulaschsuppe im Tasse
Zuppa di gulasch in tazza
Sopa Goulash en taza
Zupa gulaszowa "Alfoldi" w filiżance
Суп-Гуяш блюдо
6. Goulash soup in pot
3 790,-
Gulaschsuppe im Kessel
Zuppa di gulasch in paiolo
Sopa de Goulash en caldereta
Zupa gulaszowa "Alfoldi" w kociołku
Суп-Гуяш в котелке
7. Hungarian fish soup in cup
2 790,-
Ungarische Fischsuppe im Tasse
Zuppa di pesce con pesce gatto in tazza
Sopa de pescado húngara en taza
Zupa rybna w filiżance
Рыбный суп с сомом, в чашке
8. Hungarian fish soup in pot
3 990,-
Ungarische Fischsuppe im Kessel
Zuppa di pesce con pesce gatto un paiolo
Caldereta de pescado a la húngara
Zupa rybna w kociołku
Рыбный суп с сомом, в котелке
9. Chicken soup with vegetable, noodle and chicken
2 190,-

Hühnersuppe mit Gemüsen, Teig und Hühnerfleisch
Caldo de aves con verduras ,fideos, carne
Rosól z drobiu, warzywa, makaron i mieso z drobiu w filizance
Золотистый бульон с галушками из мяса петуха
Prices are for information only.
Prices are calculated in HUF.
The prices include VAT.
Service fee is not included, 13% of sum total will be added to the bill.
Not available from all dishes half portion, where yes, there we will be charged 75%.
Hungary 1014 Budapest,
Tárnok u. 16
On Monday and Thursday to Sunday:
12:00 – 22:00
Tuesday-Wednesday: Closed